Introduction
~One day at the lab~
Boss Y
Hey Cork31! Look at this graphical abstract from Cancer cell, it's beautiful, isn't it? I heard everyone in Lab X uses "Illustrator" for making these pictures. Starting from your paper, let's make article figures using this.
Cork31
Yes, boss. Has anyone in our lab ever used it? This is going to be a good opportunity and I would like to learn it from someone.
Boss Y
Hmm? We've all been using PowerPoint so far. You're going to have to learn it by yourself. And when you figure out how to use it, please teach us!
As above, after I finished all the experiments for my PhD research, the next step was to create figures using Illustrator.
While trying to study how to use this, I found that there was not much information for researchers for making article figures.
For this, I would like to take this opportunity providing information on how to use Illustrator for researchers.
If you could read Japanese, the Japanese version of this article will be at the link below.

【illustrator】研究者には必須!?イラストレーターを使った論文Figure作成術!
この記事ではイラストレーターを使った論文figureの作成方法を具体的にご紹介していきます。...
By the way, most of the images used on this website was created using this application.
Method
When I read the submission guidelines of various journals, like CNS and its sister journals for instance, I got the impression that they strongly recommended the use of
Illustrator
to create figures because of the following reasons.
Pros and Cons
Benefit of using Illustrator
You can specify the file format.  

e.g. tiff, jpeg

You can specify the resolution of the figure.
You can choose between RGB colors for screen displays and CMYK colors for printing. Powerpoint has RGB only.
When the file is moved to another computer, there is no need to worry about the Font being replaced by another one without notice.
The Font can be changed and adjusted in illustrator. In other words, you can unify fonts between picutures (results) in the same figure.
You can create a high quality image figure as a vector image, which is difficult to create in Powerpoint.
The ability to create image figures is useful not only for writing papers, but also for applying for grants.
Disadvantages of using Illustrator
There is a monthly fee for using it.

There are a lot of settings, and it takes some time getting used to it.
Note:
When you first decide which picture (result) to put in which figure, I think PowerPoint has the advantage for this process.
Since you will probably have a large number of pictures, you can easily move back and forth between the figures in the same file by using PowerPoint.
So, I think it is best to make a rough structure by PowerPoint as usual, and then finish it by Illustrator.
Installing Illustrator
As far as I know, there is currently no permanent license, and it will usually cost you around $10 for a monthly subscription.
If you are a student, you can purchase cheaper from "amazon student".
Basic use of Illustrator
In my opinion, the quickest and most effective way how to learn the basic use of illustrator is to buy an instructional book and read.
You may think, "So, I have to buy a book after all, huh?", but I will explain what you need to know about creating a figure in the following sections, which are often not covered in books.
After buying and reading several instructional books myself, I think it is best to buy the easiest book possible at first.
Even though I thought I bought the beginner's guidebook, one was too difficult for me to follow.
As far as I know, I recommend the following two books.
However, it's written in Japanese.
Sooorrrrryyy.
Illustratorのやさしい使い方から論文・学会発表まで, 門川俊明, 羊土社
これからはじめるIllustratorの本, ロクナナワークショップ, 技術評論社
Create a template for each column
Now, let's look at the concrete method for creating article figures in Illustrator.
Generally, there are three sizes (columns) of figure in scientific papers and the size does not differ so much between journals.
※Reference (from left to right):
Krijn K. Dijkstra et al. Cell Reports 2020
Adam S. Crystal et al.Science 2014
Luping Lin et al. Nature Genetics 2015
With the above in mind, before creating article figures, please create three different sizes of template in advance.
For additional note, some journals do not use 1.5 column.
Below is an example size of each column in Cancer Cell.
1 column: 85 mm
1.5 column: 114 mm
2 column: 174 mm
Each length specifies the width only.
After inserting the graph, you should manually set the height to be as short as possible.

As above, if you make templates for each column, the following procedures will be much easier.
Paste a picture (result) to the artboard in illustrator
I'll skip the Excel data because you can simply copy and paste it.
In this section, I'd like to show you how to paste a picture of your result into Illustrator using Prism for an example.
However, the following is self-taught, so there may be a better way.
Prism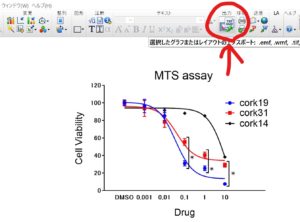 Press "Output" on the prism screen and produce a WMF format data.
(Note: If WMF doesn't work try some other formats)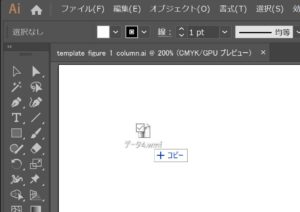 Drag and drop the WMF data into the Illustrator.
This creates a new tab and inserts the picture into it.
Copy and paste this into the figure artboard.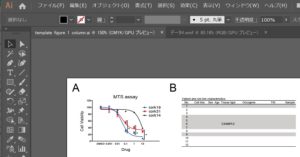 Usually the picture is too large, so make it smaller and place it to the ideal location.
To keep the aspect ratio, hold shift key when you make it small.
By the way, the ideal font is Arial, size is 6-12 points, and the recommended width of lines are about 1 point.
Art Board Adjustment
After inserting the picture in the figure, you need to adjust the height of the artboard.

Press "Document Settings".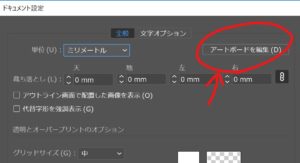 Next, press "Edit Artboard".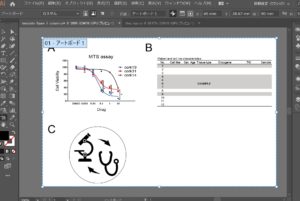 Set it so that the vertical margins are reduced.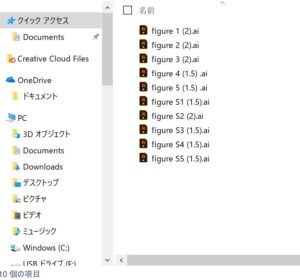 Repeat this process and complete every figure.
Added 11/17/2019:
By default, "Document Settings" does not seem to be displayed in the upper right corner.
If you are having trouble with this, please refer to the following method.

Click on "Initial Settings" in the top right corner of the screen.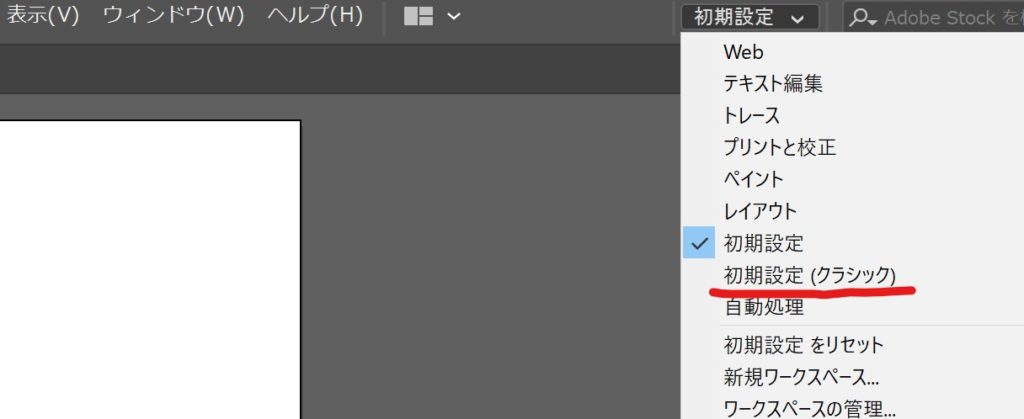 Select "Default (Classic)" among the various options and it will be displayed.
Figure output
Press "File", "Export", and "Export Format" in order.

Next, set the "File Type" to the one specified in the journal.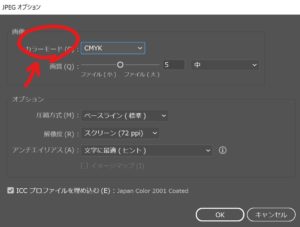 Don't forget to set the color mode to the one also specified in the journal.
Set the resolution and click "ok" to complete the process.
Keyboard shortcuts
I will only introduce the shortcut keys that can only be used within Illustrator and skip the more common ones like "ctrl + s (save)".
V: selection tool
A: Direct Selection Tool
T: Text input
Ctrl + Alt + space + click: shrink
Ctrl + space + click: enlarge
Space: hold
Conclusion
That will be it! I hope you will make use of this application when you are making your research figures!
Thank you for reading and goodbye!